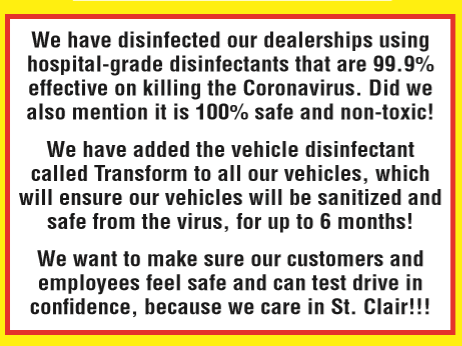 Here at St. Clair Chrysler, Dodge, Jeep, Ram the health and safety of our customers and employees is our top priority.  With the recent COVID-19/Coronavirus news we are taking stringent measures to disinfect all of our vehicles, bathrooms, handles, and entire facilities on a regular basis.  Now, more than ever, we want to make sure our customers feel comfortable and welcomed in our showrooms.    Below are a few procedures we're implementing to ensure your safety and peace of mind is taken care of:  
➢ Very Important, for the safety of our staff, please DO NOT come in for any nonessential maintenance work like Oil changes that can be scheduled at a later date.
➢ Emergency pick-up and delivery service is available if you're concerned or unavailable to bring your vehicle in for essential service repairs.  
➢ If you require ANY other assistance, please contact our Business Development Department which is working 24/7 from our website or jainsworth@stclairautomotive.com
➢ We will continue to have a team of dedicated and volunteer Service and Parts professionals available to ensure you that any concerns and service issues are handle.
➢ Please reach out to your individual salesperson  directly to their email or by text.
➢  If lease transactions are due, we understand that ALL of the Leasing Companies will be offering extensions programs
➢ We have implemented a system that allows you to complete an entire transaction without leaving your home; Online credit app, website chat, home delivery, home test drives etc. Visit our Shop From Home page for more information!  
➢ We now offer contactless mobile check in's for service appointments. You can confirm your appointment details, add additional services, and provide your digital signature - all from your mobile device! We will send you a link to start the check-in process on the night before your appointment. Of course, if you prefer to check-in with one of our Advisors, that option is still available to you.
➢ After each test drive, we are disinfecting all areas touched by customers; this includes seats, steering wheels, handles, and center consoles.  
➢ Hand sanitizers will be placed throughout the showroom, customer waiting area, and service areas.  
➢ Waiting areas and bathrooms will be disinfected on a regular basis. 
➢ Seating in waiting areas will be spaced appropriately out to adhere to social distancing recommendations. 
➢ Our employees are following all CDC hygiene protocols.  
➢ We are actively monitoring updates from the CDC, World Health Organization and local health departments, to ensure we adhere and stay up to date with recommendations regarding your safety. 
Moving forward, our team will continue to do everything in our power to make you and your family feel comfortable in our dealership.  When you visit, you'll be met with a warm smile, appropriate greeting, and a sanitary environment. This community, our employees and our customers are always our top priority and together we will work through this.  Be safe, be smart, and stay calm.     
Thank you, t
he "We Care" Team at St. Clair Chrysler, Dodge, Jeep, Ram